High-pressure fan with frequency-controlled direct drive
Our radial fans stand for quality and robustness. They are powerful and can be used flexibly for low, medium or high pressure. With the closely staggered sizes, the optimum unit is offered for every application.
An important mainstay of our fan program is the so-called "HR series". Our high-pressure radial fans are manufactured according to German quality standards in our fan factory in Heroldstatt-Ennabeuren.
The "HR series" solves a wide variety of ventilation tasks in many fields. They are designed for high pressure differences (positive or negative pressure) and thanks to operation via frequency inverters, these radial fans can be flexibly optimized for a wide range of applications.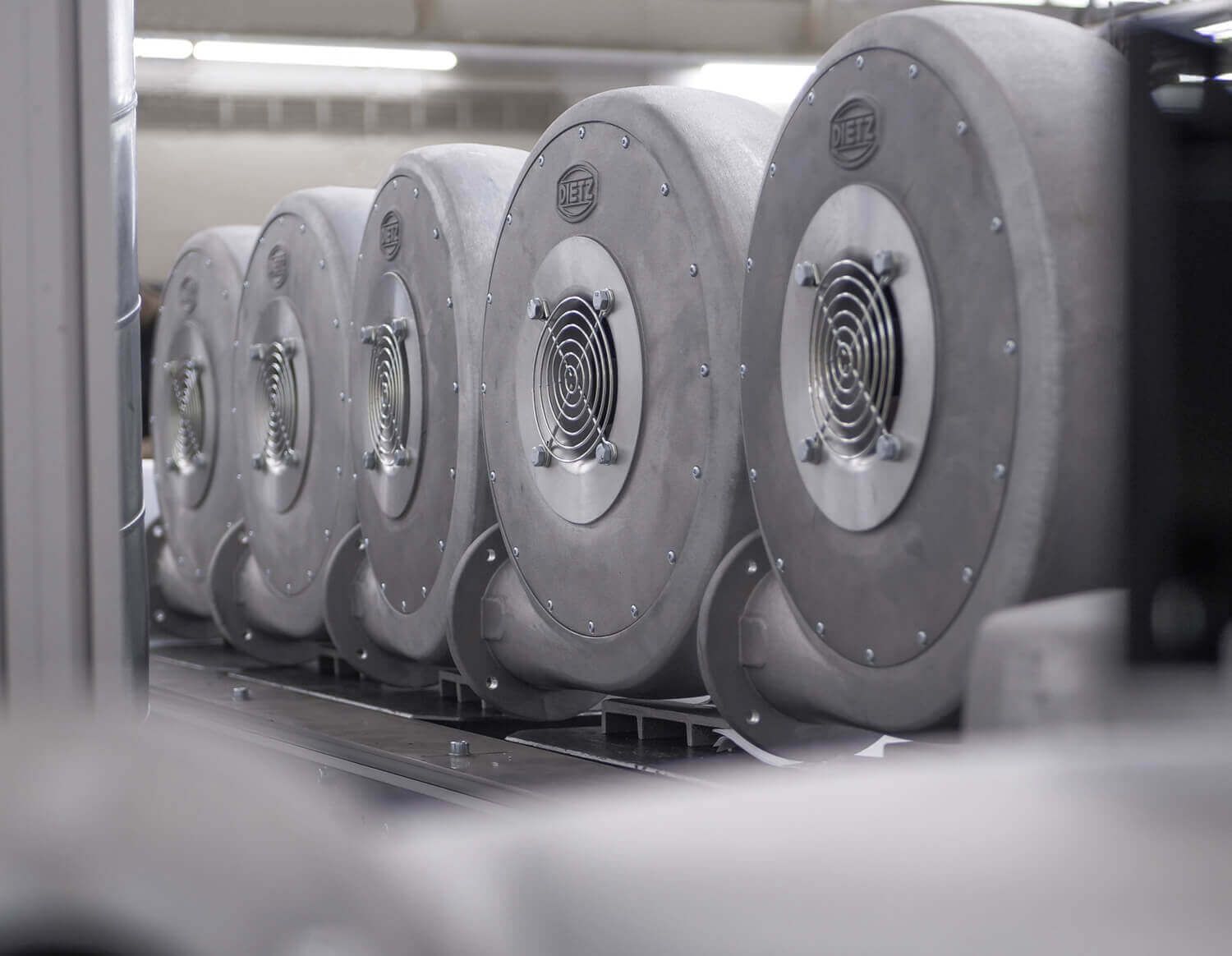 In the past, high-pressure radial fans were belt-driven units with a mains frequency motor for 50Hz and/or 60Hz. Modern power electronics make a direct drive possible here without complex gear ratios and belts. We build special motors for this purpose, which are not only matched to the characteristic curve of the fan, but also withstand the influences emanating from frequency converters.
The exclusive use of hybrid bearings lubricated for life is a guarantee for long service life, even under adverse environmental conditions. Together with the closed and backward curved high performance impeller, excellent air values and efficiencies are achieved with compact dimensions.
The advantages of the high pressure radial fans are the efficient efficiency, the adjustable air values thanks to the frequency converter and the variable speeds. It should not be forgotten that the high pressure radial fans are powerful & enormously versatile, compact and light.  
At an ambient temperature of -20 to +40 °C, with regard to the pumped medium, even the standard version offers suitability for gases and vapors up to 80 °C (non-corrosive). This is ensured by a stable, largely corrosion-resistant cast aluminum housing. Practicality, robustness, high efficiency and smooth running - these points are combined by the shapely housing with modern industrial design. The nominal diameters and connection dimensions of the suction and blowing ports correspond to the standard dimensions of many machine, system and accessory connections. This enables flow-favorable as well as standardized and thus cost-effective mounting options. The flanges of the inlet and outlet ports have nominal diameters and mounting holes according to DIN 24154, Part 2. We can supply different hole circle hole patterns on request. Fans of the HR series are generally not suitable for conveying solids, which can lead to impeller blockages, housing clogging, caking or abrasion.
On our fan overview page you can be convinced of the complete product range of radial fans. Via the in-house product finder "Fanfinder" you can display two suitable selections of radial fans by entering your defined operating point (pressure and volume flow).